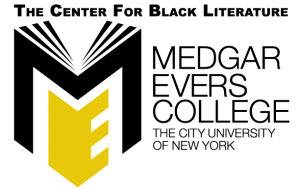 FIRST, A LITTLE BACKGROUND: Founded in 2002, the Center for Black Literature at Medgar Evers College of the City University of New York (CBL) had its official opening in May 2003 at the Charles Evans Inniss Memorial Library located at Medgar Evers College. The opening celebration featured a tribute to the late scholar and poet Calvin C. Hernton. Actor and teacher Avery Brooks served as the event host.
Calvin C. Hernton was widely known for his landmark study titled Sex and Racism in America. He was also a prolific writer who published short stories, a novel, and books of poetry. He also cofounded Umbra Magazine, which published the works of Langston Hughes, Alice Walker, and others. Until his retirement in 1999, Hernton was a professor of African-American Studies and creative writing at Oberlin University. He passed of cancer in October 2001. A tribute program for Hernton was held in the Medgar Evers College Auditorium and presenters included Elaine Brown, Steve Cannon, Haki Madhubuti, Kevin Powell, Ishmael Reed, Eugene Redmond, Sonia Sanchez, and Arthur Flowers. Spoken-word performances were provided by DuEwa Frazier, jessica CARE moore, Tehut-Nine, and Kate Rushin. There was also a special videotaped presentation by Dr. Maya Angelou.
National Black Writers Conference and Biennial Symposium
The National Black Writers Conference and Biennial Symposium (NBWC) are major programs of the Center. Initially inspired by the late John Oliver Killens, the Conference has been held at Medgar Evers College since 1986 and is the cornerstone of the College's Center for Black Literature's vision for expanding the scope and appreciation of literature and literary art and scholarship produced by and about the artists whose experiences, memoirs, stories, imaginations, understandings, and visions reflect the African Diaspora. Geared toward writers and scholars of literary art, the Conference convenes students, faculty, acclaimed authors, and literary critics from across the diaspora, and brings together the literary community, educators, students, and the general public to establish conversations on emerging themes, trends, and issues in literature produced by Black writers. The Center for Black Literature continued the tradition of presenting the NBWC in 2003 and instituted the NBWC Symposium in 2005.
The major conference is held biennially over a three- to four-day period and a biennial symposium focused on a major writer or overarching social theme is held for one day in alternate years. Honorees have included Toni Morrison, Derek Walcott, Maya Angelou, Alice Walker, Rita Dove, Nikki Giovanni, Edwidge Danticat, Amiri Baraka, Ishmael Reed, Sonia Sanchez, Quincy Troupe, Walter Mosley, Dr. Myrlie Evers-Williams, Randall Robinson, Kamau Brathwaite, Michael Eric Dyson, Susan L. Taylor, Ngũgĩ wa Thiong'o, David Levering Lewis, Charles Johnson, Tananarive Due and Steven Barnes, Ishmael Reed, and Colson Whitehead among many others. Through its NBWC Symposia, the Center has acknowledged the works of inspiring people such as Gwendolyn Brooks, August Wilson, Audre Lorde, Octavia E. Butler and Danny Glover.
NBWC was first convened over a period of four days to bring together writers, critics, booksellers, book reviewers, and the general public in order to establish a dialogue on the social responsibility of the Black writer. Since 1986, subsequent conferences (1988, 1991, 1996, 2000, 2003, 2004, 2006, 2008, 2010, 2012, 2014, 2016, 2018, and 2020) have expanded this conversation to include discussions on stereotypes in Black literature; the renaissance in Black literature; race, history, and identity in Black literature; the impact of migration, popular culture and the natural environment in Black literature; reconstructing the master narrative; and healing, legacy, and activism in Black literature. Each subsequent Conference is built on the theme of the previous one and attracts audiences worldwide.
Maya Angelou was the keynote speaker for the first Conference, Nobel Prize-winning author Toni Morrison was Honorary Chair for the Tenth National Black Writers Conference (2010) and Dr. Myrlie Evers-Williams, wife of the late civil rights activist Medgar Wiley Evers, was the Honorary Chair for the Eleventh National Black Writers Conference (2012).
The audience for the Conferences is comprised of people from the New York tri-state area, the United States, and all over the world, including Africa, Europe, the Caribbean, and Canada. An average of 2,000 people attend the Conference over several days. The Center has also received widespread media coverage for the NBWC, including coverage on C-SPAN Book TV, national television and National Public Radio, and articles in the New York Times, Poets & Writers, The New York Amsterdam News, Our Time Press, The Network Journal, and numerous magazines, newspapers, and journals throughout the country.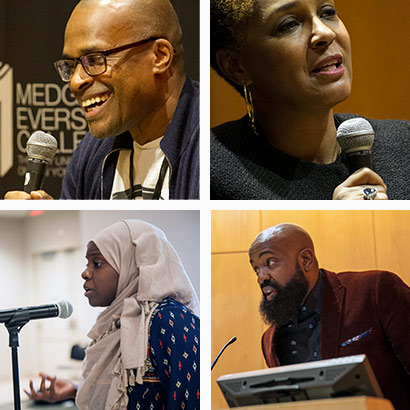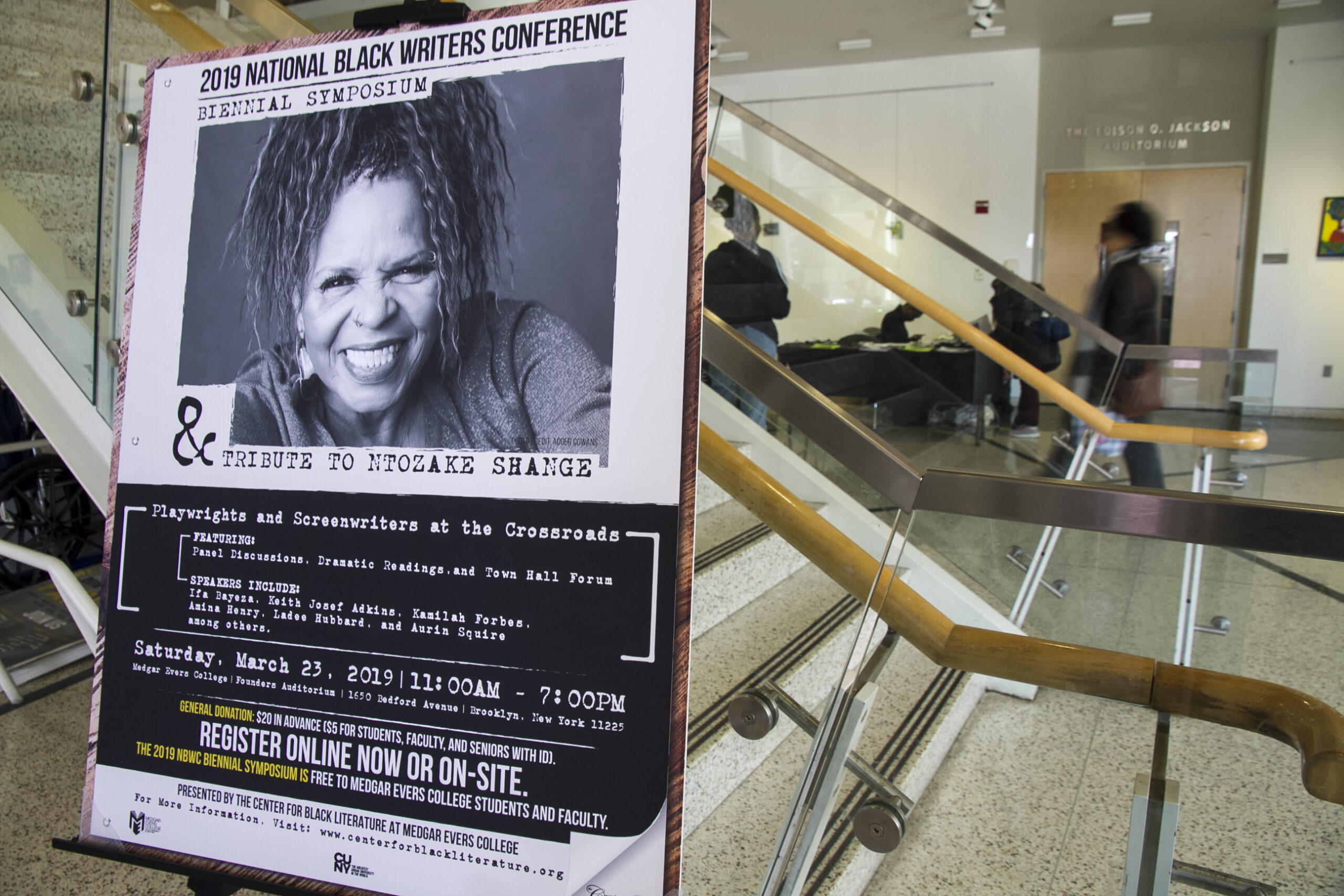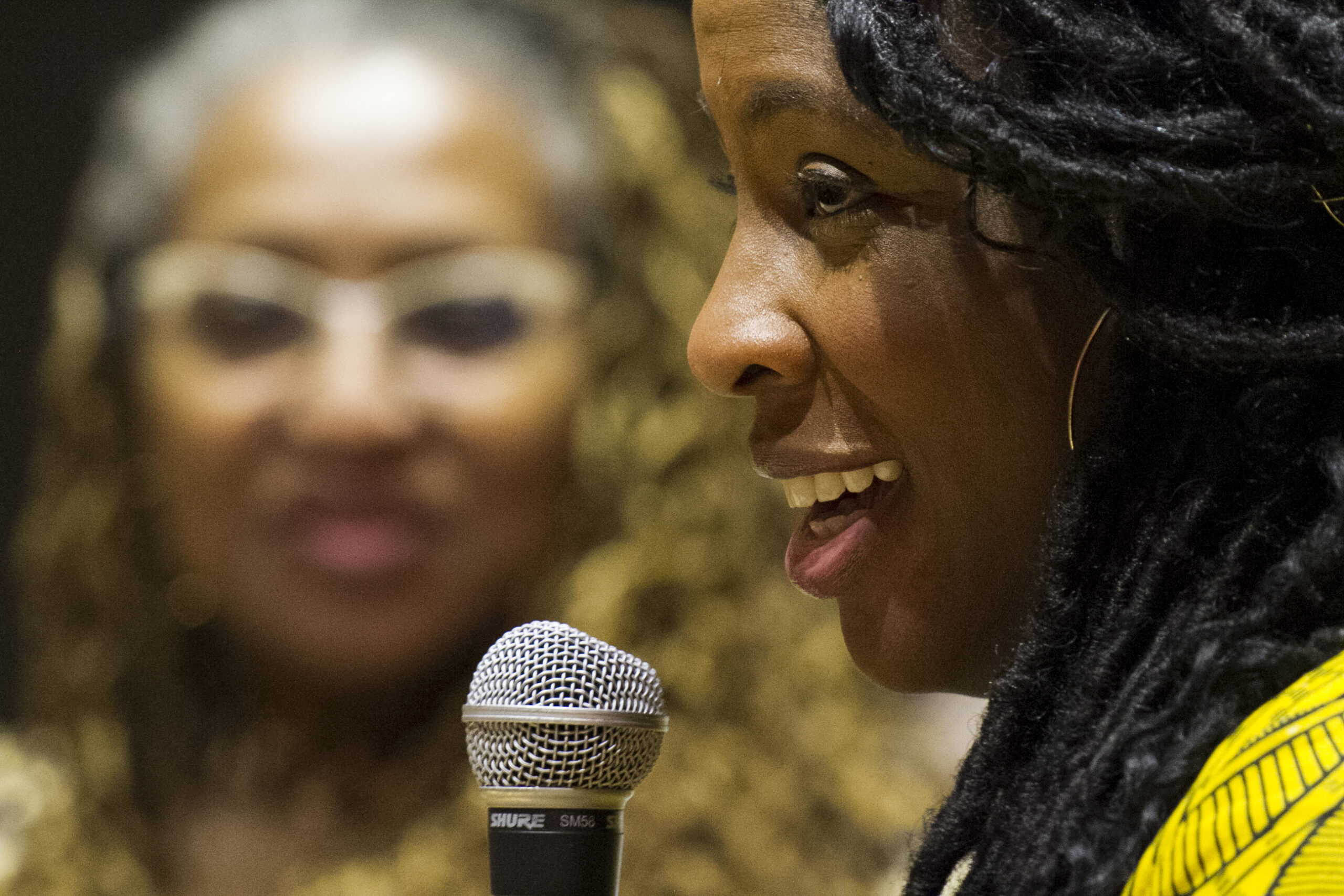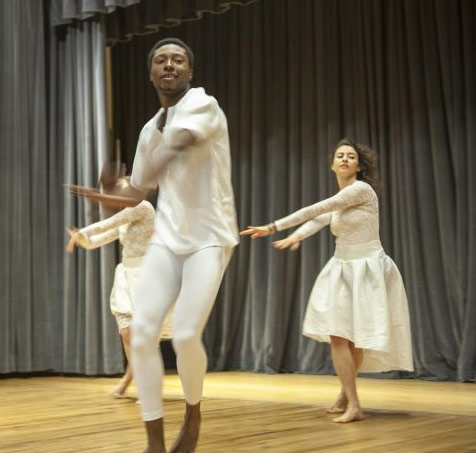 Re-Envisioning Our Lives through Literature (R.O.L.L.)
Founded in 2003, the Re-Envisioning Our Lives through Literature (R.O.L.L.) is a youth program which the literary arts are integrated with English Language Arts curriculum to improve students' critical reading, writing, and communication skills. Through reading, studying, and writing about themes in literary texts, students build their knowledge base about literature from another culture, expand their knowledge of diverse cultures, and improve their critical reading and writing skills. Students enrolled in R.O.L.L. participate in one of several workshops: dramatic writing workshop; creative writing; or the spoken word. Since 2003, R.O.L.L. has operated in elementary, middle, and high schools in the New York City area.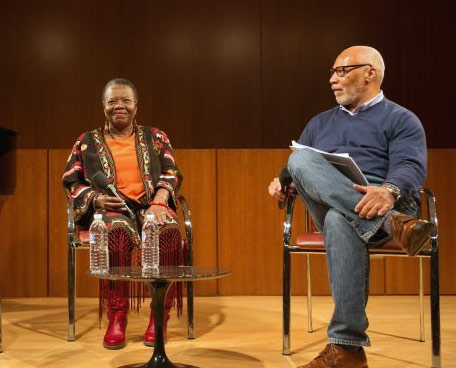 John Oliver Killens Reading Series
The John Oliver Killens Reading Series was established in 2010 as a forum to present authors, poets, and scholars with opportunities to read from their recently published work and to enable the audience to meet authors firsthand. Writers share insights on the processes, challenges, and rewards of creating texts in the tradition of storytelling in the Black community. Through the series, audiences can better understand the important role literature plays in our society and can better appreciate diverse cultural and literary perspectives.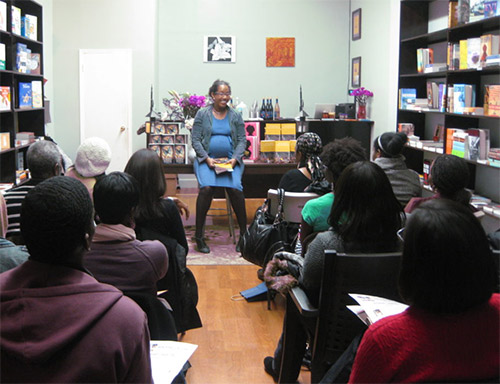 Killens Review of Arts & Letters
As part of its publication program, the Center publishes the Killens Review of Arts & Letters, a biannual, peer-reviewed literary journal founded in honor of legendary Black novelist John Oliver Killens. The Review was launched in 2010 and welcomes Black poets, novelists, short story writers, playwrights, journalists, essayists, scholars, yet-to-be discovered writers, and visual artists whose works resonate with an intergenerational range of readers throughout the African Diaspora.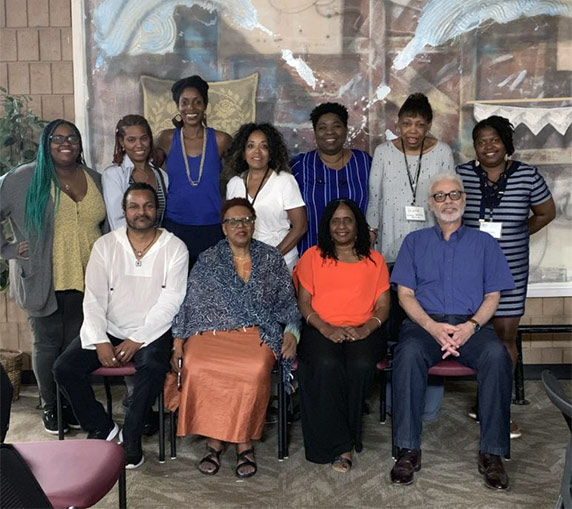 Wild Seeds Writers Retreat
The Wild Seeds Writers Retreat, a collaboration with the Center for Black Literature, the English Department at SUNY, Plattsburgh, and the Paden Institute and Retreat for Writers, provides a writing community where established as well as newly discovered writers of color can focus on the craft of writing and create cross-cultural conversations around the literature created by writers of the African Diaspora. Writing fellows work with faculty workshop leaders and have an opportunity to draw upon their experiences as writers in a racialized society; to become knowledgeable about the issues and concerns facing writers of color; and to study with a professional writer in multiple genres.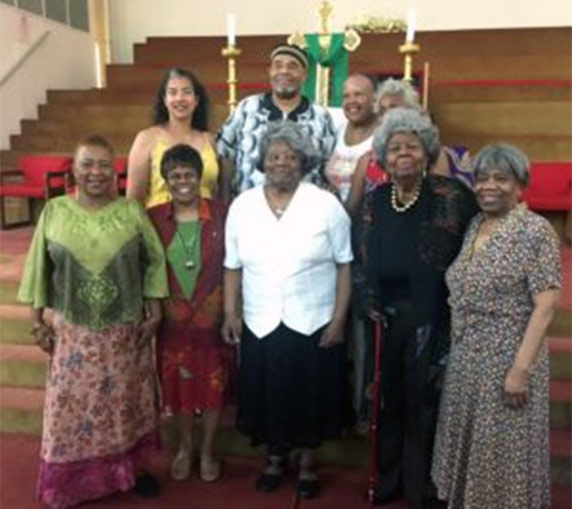 Dr. Edith Rock Elders Writing Workshop
Since 2003, the Center has sponsored the Elders Writing Workshop in collaboration with Siloam Presbyterian Church. The workshop began as a writing project for older African Americans. Its specific purpose was to encourage its participants to recall their past and help them turn their recollections into inspirational memoirs and stories.
The stories emanating from the elders include narratives of migration and the challenges of discrimination, racism, and segregation.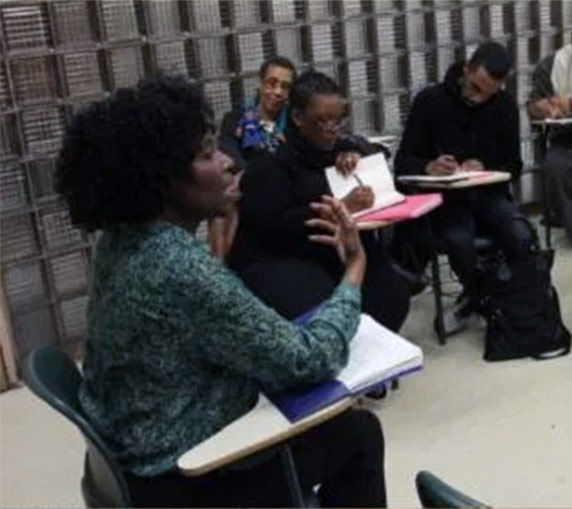 The Center's Fiction Writing Workshop, in partnership with Workforce Development Adult & Continuing Education (in the School of Professional and Community Development), offers a credit-bearing Fiction Writing Workshop. The four-hour workshop, which has been led by best-selling author Donna Hill for the past four years, is designed to help writers hone their craft, whether they are budding writers who are starting a novel or short story and or a writer who has already begun a novel or short story and needs help with development.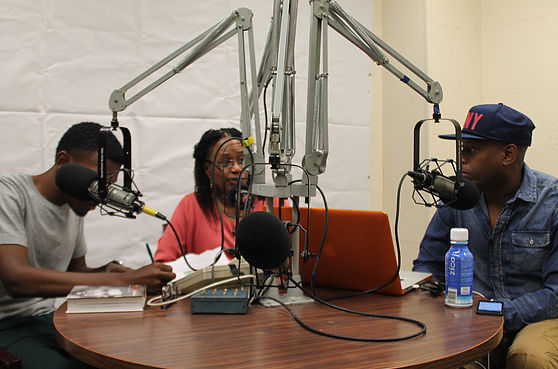 "Writers on Writing" Radio Program
The Writers on Writing Radio Program, launched in 2003, is a weekly show on WNYE, 91.5 FM in the New York metropolitan area. Airing weekly on Sundays (from 7:00 p.m. to 7:30 p.m. ET), the program highlights Black literature from a variety of perspectives and features writers, literary scholars, and poets from many genres. Hosted by Dr. Brenda M. Greene, Writers on Writing provides a forum for authors to discuss their work, craft, and inspiration. Since 2020, select interviews are housed on the Center's YouTube channel.
Please visit www.youtube.com/centerforblackliteraturemedgareverscollege.
Center for Black Literature
at Medgar Evers College, CUNY (CBL)
1534 Bedford Avenue, 2nd Floor
Brooklyn, New York 11216
Phone: (718) 804-8883
Email: info@centerforblackliterature.org
To carry out our mission, we rely heavily on donations from the public. Please MAKE A DONATION today. Every single dollar counts!
...
The Center for Black Literature at Medgar Evers College, CUNY is supported in part by an American Rescue Plan Act grant from the National Endowment for the Arts to support general operating expenses in response to the COVID-19 pandemic.

Join our email newsletter to get regular details on our year-round events.
Copyright © 2021 All rights reserved. | Center for Black Literature at Medgar Evers College, CUNY.