CBL List of Recommended Books by Black Authors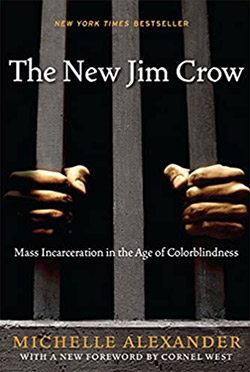 Since 2002, the mission of Center for Black Literature has been—and continues still—to expand, broaden, and enrich the public's knowledge and aesthetic appreciation of the value of Black literature. In keeping with its mission, the staff at CBL began compiling a reading list of titles that we and our colleagues turn to for fortitude, inspiration, and uplift. These titles provide impactful narratives that reflect the rich, wide ranging literary genres in which Black writers use their voices to express their experiences and to center on the political and social consciousness that represents varied Black experiences, in America, the Caribbean, and abroad.
Eddie S. Glaude Jr., the James S. McDonnell Distinguished University Professor and chair of the Department of African American Studies at Princeton University, and an honoree of CBL's 16th National Black Writers Conference, stated: "I think all great literature helps us understand what happens between the two momentous breaths we have. You have two momentous breaths, the first one and the last one. What happens in between? All great literature, to my mind, offers a window to understanding what it means to make your way through time and space."
Literature as a reflection of society is a forceful tool. During today's challenging times of the health pandemic and the recent mass protests and demonstrations against this country's long history of police brutality and institutional racism, there have been an outpouring of emotions, from anger to grief, all galvanizing calls for political change. In the past few years, there has also been an overwhelming surge of interest in literature on the subjects of race and Black identity in America, and with that, renewed support of Black authors and sales at Black-owned bookstores.
PLEASE NOTE: The Center's listing only scratches the surface of an ever-growing literary landscape of Black writers; thus, we invite recommendations from our colleagues, friends, and supporters. Kindly feel free to send your recommendations and suggestions for consideration to us at info@centerforblackliterature.org. For information on some of these and additional titles, please visit the African American Literature Book Club at AALBC.com.
Nonfiction
The New Jim Crow: Mass Incarceration in the Age of Colorblindness by Michelle Alexander, 2010
White Rage: The Unspoken Truth of Our Racial Divide by Carol Anderson, 2016
James Baldwin: Collected Essays by James Baldwin, Library of America, 1998
Black Detroit: A People's History of Self-Determination by Herb Boyd, 2017
SOS—Calling All Black People: A Black Arts Movement Reader by John H. Bracey Jr., Sonia Sanchez, and James Smethurst, 2014
A Taste of Power: A Black Woman's Story by Elaine Brown, 1993
She Took Justice: The Black Woman, Law, and Power – 1619 to 1969 by Gloria J. Browne-Marshall, 2020
Open Letters to America: Essays by Kevin Powell, 2009
2020: The Year That Changed America, edited by Kevin Powell's Writing Workshop, 2021
Between the World and Me by Ta-Nehisi Coates, 2015
The Matter of Black Lives: Writings from The New Yorker, edited by Jelani Cobb and David Remnick, 2021
When Chickenheads Come Home to Roost: My Life As a Hip-Hop Feminist by Joan Morgan, 1999

Create Dangerously: The Immigrant Artist at Work by Edwidge Danticat, 2011
The Meaning of Freedom: And Other Difficult Dialogues by Angela Y. Davis and Robin D. G. Kelley, 2012
The Souls of Black Folk: Introduction by John Edgar Wideman by W. E. B. Du Bois,
Library of America, 2009
The Wretched of the Earth by Frantz Fanon, 2005 (1963)
Locking Up Our Own: Crime and Punishment in Black America by James Forman Jr., 2017
Begin Again: James Baldwin's America and Its Urgent Lessons for Our Own by Eddie S. Glaude Jr., 2020
Democracy in Black: How Race Still Enslaves the American Soul by Eddie S. Glaude Jr., 2016
Read Until You Understand: The Profound Wisdom of Black Life and Literature by Farah Jasmine Griffin, 2021
The Black Book with Forward and Preface by Toni Morrison by Middleton Harris, with Morris Levitt, Roger Furman, and Ernest Smith, 2019 (1974)
Ain't I a Woman? Black Women and Feminism by bell hooks, 1981
Pre-Post-Racial America: Spiritual Stories from the Front Lines by Sandhya Rani Jha, 2015
The 1619 Project: A New Origin Story by Nikole Hannah-Jones, 2021
The African Presence and Influence on the Cultures of the Americas by Brenda M. Greene, 2010
Some of Us Did Not Die: New and Selected Essays by June Jordan, 2002
Four Hundred Souls: A Community History of African America, 1619-2019 by Ibram X. Kendi, 2021
How to Be an Antiracist by Ibram X. Kendi, 2019
Stamped from the Beginning: The Definitive History of Racist Ideas in America by Ibram X. Kendi, 2016
When They Call You a Terrorist: A Black Lives Matter Memoir by Patrisse Khan-Cullors and asha bandele, 2018
How to Slowly Kill Yourself and Others in America by Kiese Laymon, 2020
Across That Bridge: Life Lessons and a Vision for Change by John Lewis, 2012
Sister Outsider: Essays and Speeches (Crossing Press Feminist Series) by Audre Lorde and Cheryl Clarke, 2007
Playing in the Dark: Whiteness and the Literary Imagination by Toni Morrison, 1992
The Source of Self-Regard: Selected Essays, Speeches, and Meditations by Toni Morrison, 2019
The Condemnation of Blackness: Race, Crime, and the Making of Modern Urban America by Khalil Gibran Muhammad, 2010
We Are Worth Fighting For: A History of the Howard University Student Protest of 1989 by Joshua M. Myers, 2019
Born a Crime: Stories of a South African Childhood by Trevor Noah, 2016
A Promised Land by Barack Obama, 2020
Becoming by Michele Obama, 2018
So You Want to Talk About Race by Ijeoma Oluo, 2019
Breathe: A Letter to My Sons by Imani Perry, 2019
Looking for Lorraine: The Radiant and Radical Life of Lorraine Hansberry by Imani Perry, 2018
Me and White Supremacy: Combat Racism, Change the World, and Become a Good Ancestor by Layla Saad, 2020
My Vanishing Country: A Memoir by Bakari Sellers, 2020
Hidden Figures: The American Dream and the Untold Story of the Black Women Mathematicians Who Helped Win the Space Race by Margot Lee Shetterly, 2016
How the Word Is Passed: A Reckoning with the History of Slavery Across America by Clint Smith, 2021
Just Mercy: A Story of Justice and Redemption by Bryan Stevenson, 2014
Flyboy 2: The Greg Tate Reader by Greg Tate, 2016
From #BlackLivesMatter to Black Liberation by Keeanga-Yamahtta Taylor, 2016
What It Is: Race, Family, and One Thinking Black Man's Blues by Clifford Thompson, 2019
The Fire This Time: A New Generation Speaks About Race, edited by Jesmyn Ward
Men We Reaped by Jesmyn Ward, 2013
Caste: The Origins of Our Discontents by Isabel Wilkerson, 2020
The Warmth of Other Suns: The Epic Story of America's Great Migration by Isabel Wilkerson, 2010
We Are the Ones We Have Been Waiting For: Inner Light in a Time of Darkness by Alice Walker, 2006
Be a Father to Your Child: Real Talk from Black Men on Family, Love, and Fatherhood, edited by April R. Silver, 2008
Meditations and Ascensions: Black Writers on Writing by Brenda M. Greene, 2008
Fiction
Youngblood (1954); And Then We Heard the Thunder (1962); Sippi (1967); Slaves (1969); The Cotillion; or, One Good Bull Is Half the Herd (1971); A Man Ain't Nothin' But a Man: The Adventures of John Henry (1975); The Great Black Russian: A Novel on the Life and Times of Alexander Pushkin (1989); The Minister Primarily (2021), posthumously published novel -- all by JOHN OLIVER KILLENS
I Know Why the Caged Bird Sings by Maya Angelou, 2002 (1969)
If Beale Street Could Talk by James Baldwin, 2013 (1974)
The Sellout by Paul Beatty, 2015
The Vanishing Half by Brit Bennett, 2020
Butler: Kindred, Fledgling, Collected Stories by Octavia E. Butler, Library of America, 2020
The Water Dancer by Ta-Nehisi Coates, 2019
Washington Black by Esi Edugyan, 2018
A Gathering of Old Men by Ernest J. Gaines, 1992
The Wide Circumference of Love by Marita Golden, 2017
Confessions in B-Flat by Donna Hill, 2020
The Ways of White Folks by Langston Hughes, 1990 (1934)
Their Eyes Were Watching God by Zora Neale Hurston, 1937
The Love Songs of W. E. B. Du Bois by Honorée Fanonne Jeffers
The Fifth Season by N. K. Jemisin, 2017
My Monticello: Fiction by Jocelyn Nicole Johnson
The Known World by Edward P. Jones, 2003
An American Marriage by Tayari Jones, 2018
The Good Lord Bird by James McBride, 2013
Gathering of Waters by Bernice L. McFadden, 2012
Brown Girl, Brownstones by Paule Marshall, 1959
The Shadow King by Maaza Mengiste, 2019
The Bluest Eye by Toni Morrison, 1970
Song of Solomon by Toni Morrison, 1977
Beloved by Toni Morrison, 1987
Stand Your Ground by Victoria Christopher Murray, 2015
Wench by Dolen Perkins-Valdez, 2010
Ann Petry: The Street, The Narrows, Edited by Farah Jasmine Griffin, Library of America, 2019
The Color Purple by Alice Walker, 1982
Sing, Unburied, Sing by Jesmyn Ward, 2017
The Nickel Boys by Colson Whitehead, 2019
The Underground Railroad by Colson Whitehead, 2016
You Made Me Love You: Selected Stories, 1981–2018 by John Edgar Wideman, 2021
Another Brooklyn: A Novel by Jacqueline Woodson, 2016
The Man Who Lived Underground by Richard Wright, Library of America, 2021
Purple Hibiscus by Chimamanda Ngozi Adichie, 2003

Half of a Yellow Sun by Chimamanda Ngozi Adichie, 2006

Americanah by Chimamanda Ngozi Adichie, 2013
Poetry
Does Your House Have Lions? by Sonia Sanchez, 1997
The Complete Collected Poems of Maya Angelou, 1994
Crave Radiance: New and Selected Poems 1990-2010 by Elizabeth Alexander, 2010
SOS: Poems, 1961-2013 by Amiri Baraka, 2014
Annie Allen: Poems by Gwendolyn Brooks, 1949
The Tradition by Jericho Brown, 2020
The Collected Poems of Sterling A. Brown by Sterling A. Brown, edited by Michael Harper, 1996
Playlist for the Apocalypse: Poems by Rita Dove, 2021
Head Off & Split by Nikky Finney, 2011
Love Child's Hotbed of Occasional Poetry: Poems & Artifacts by Nikky Finney, 2020
Catalog of Unabashed Gratitude by Ross Gay, 2015
The Collected Poetry of Nikki Giovanni, 1968-1998, 2003
American Sonnets for My Past and Future Assassin by Terrance Hayes, 2018
The Weary Blues by Langston Hughes, 2015 (reprint)
Holding Company: Poems by Major Jackson, 2012
Olio by Tyehimba Jess, 2016
Voyage of the Sable Venus: And Other Poems by Robin Coste Lewis, 2017
We Want Our Black Bodies: Poems by jessica Care moore, 2020
Citizen: An American Lyric by Claudia Rankine, 2014
Shake Loose My Skin: New and Selected Poems by Sonia Sanchez, 2000
Life on Mars: Poems by Tracy K. Smith, 2011
Native Guard by Natasha Trethewey, 2006
The Collected Poems of Lucille Clifton, 1965–2010 by Kevin Young and Michael Glaser, 2012
Young Adult and Children
Cornrows by Camille Yarbrough, 1979

The Shimmershine Queens by Camille Yarbrough, 1996
Woke: A Young Poets Call to Justice by Mahogany L. Brown, Elizabeth Acevedo, Olivia Gatewood, Theodore Taylor III, and Jason Reynolds, 2020
New Kid by Jerry Craft, 2019
Virginia Hamilton: Five Novels, Library of America, 2021
Deshawn Days by Tony Medina, Illustrated by R. Gregory Christie, 2003
Sulwe by Lupita Nyong'o and Vashti Harrison, 2019
Black Brother, Black Brother by Jewel Parker Rhodes, 2020
The Boy in the Black Suit by Jason Reynolds, 2015
Stamped: Racism, Antiracism, and You by Jason Reynolds and Ibram X. Kendi, 2020
Feathers by Jacqueline Woodson, 2007
Center for Black Literature (CBL)
at Medgar Evers College, CUNY
1534 Bedford Avenue | 2nd Floor
Brooklyn, New York 11216
(Click HERE for the Postal Mailing Address)
Main Phone: (718) 804-8884
Main Office: info@centerforblackliterature.org
To carry out our literary programs and special events, we depend on financial support from the public. Donations are welcome year-round. Please click HERE to donate. Thank you!
...
The Center for Black Literature at Medgar Evers College is supported in part by an American Rescue Plan Act grant from the National Endowment for the Arts to support general operating expenses in response to the COVID-19 pandemic.

Sign-up to receive news about our programs!
Copyright © 2023, Center for Black Literature at Medgar Evers College.