Expand, broaden, and enrich the public's knowledge and aesthetic appreciation of Black literature by people of the African Diaspora.
We See You Black Women Writers!
In partnership with The Harlem Writers Guild, we're presenting "Black Women Writers at Work: A Literary Salon." Join us September 30!
Confirmed guests are Jennifer Baker (Amistad Books), Ladee Hubbard (The Rib King); Morowa Yejidé (Creatures of Passage), and Karla FC Holloway (Gone Missing in Harlem). THIS IS AN OFFICIAL BROOKLYN BOOK FESTIVAL BOOKEND EVENT. Get details and register HERE.
Experience the #WritersOnWriting​ Radio Program
ROBERT "BOB" MOSES
Dr. Brenda Greene interviews Robert "Bob" Moses, Thomas Armstrong, and Muriel Tillinghast during their visit to Medgar Evers College. The three civil rights and voting rights movement icons spoke on campus at the annual Black History Month program in February 2012.
CBL sends its condolences to the Moses family on the passing of Dr. Moses (January 23, 1935 - July 25, 2021). We are eternally grateful for his brilliance and sacrifice. Read Dr. Greene's statement here: https://conta.cc/3j4lKt4

TAMARA PAYNE
Dr. Brenda Greene interviews Tamara Payne, the co-author with Les Payne of the biography The Dead Are Arising: The Life of Malcolm X. Payne is the daughter of the late legendary journalist Les Payne and has worked with her father as a research assistant. She completed the book after he died in 2018. The book won the 2020 National Book Award for Nonfiction.
ICYMI (In Case You Missed It) from Earlier This Year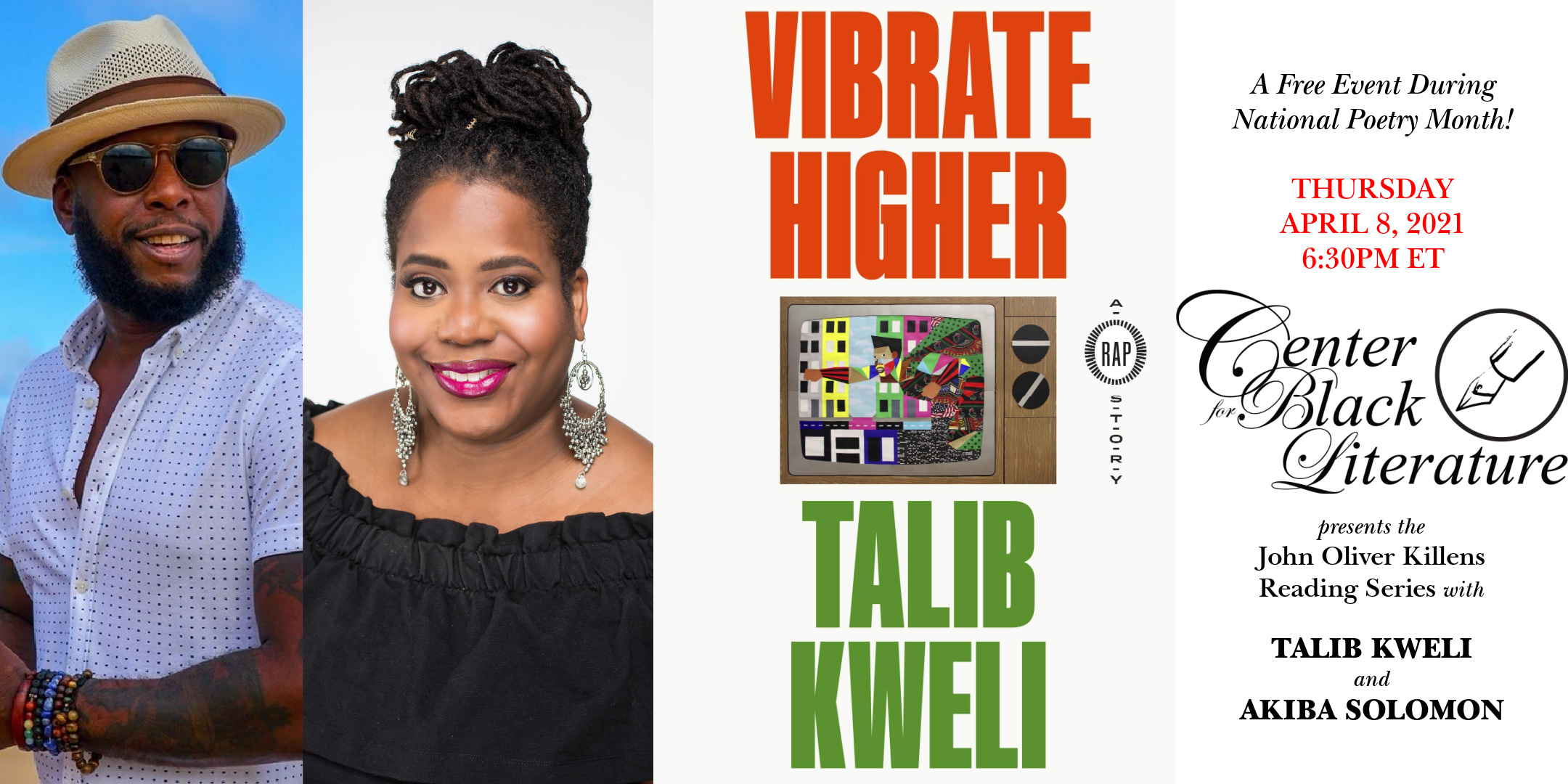 Broadcasted on April 8, 2021
The Center for Black Literature presented the renowned hip hop artist and activist Talib Kweli in conversation with Akiba Solomon, senior editor at The Marshall Project, about his new book Vibrate Higher: A Rap Story. This event was a part of our monthly John Oliver Killens Reading Series. Watch the replay!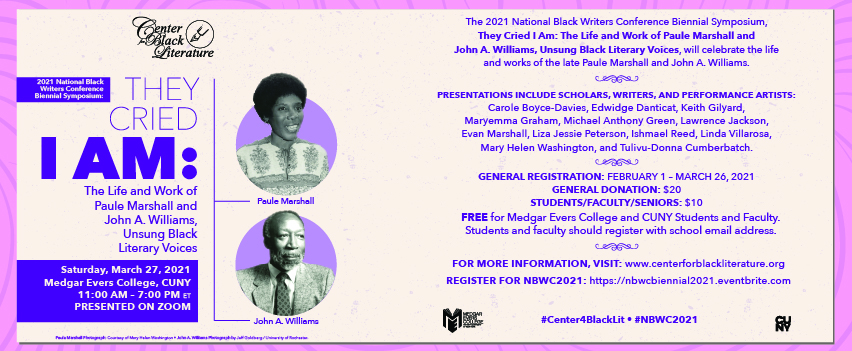 Broadcasted on March 27, 2021
The 2021 National Black Writers Conference, "They Cried I Am: The Life and Work of Paule Marshall and John A. Williams, Unsung Black Literary Voices," celebrated the life and works of these two great literary voices.
Thank you to all who made this a successful event!

About the Center for Black Literature at Medgar Evers College, CUNY
For nearly 20 years, the public and academic programs of the Center for Black Literature (CBL) have been highly revered and have had a dynamic impact in the literary field. The author readings and book signings, journals, symposia, conferences, panel discussions, and writing workshops—and the Center's intellectual and accessible approach to programming—form an integrative approach that sets CBL apart from others. CBL's body of work is known for the way in which it ensures that Black literary scholarship and conversations are valued and sustained.
Center for Black Literature at
Medgar Evers College, CUNY (CBL)
1534 Bedford Avenue, 2nd Floor
Brooklyn, New York 11216
Office: (718) 804-8883
Email: writers@mec.cuny.edu
Support Us with a Donation!
To carry out our mission, we rely heavily on donations from the public. Please MAKE A DONATION today. Every dollar counts!
Join our email newsletter to get details on upcoming events and programs produced, sponsored, or supported by the Center for Black Literature.
Copyright © 2021 All rights reserved. | Center for Black Literature at Medgar Evers College, CUNY.