Established October 2002, the Center for Black Literature's mission is to expand, broaden, and enrich the public's knowledge and appreciation of Black literature.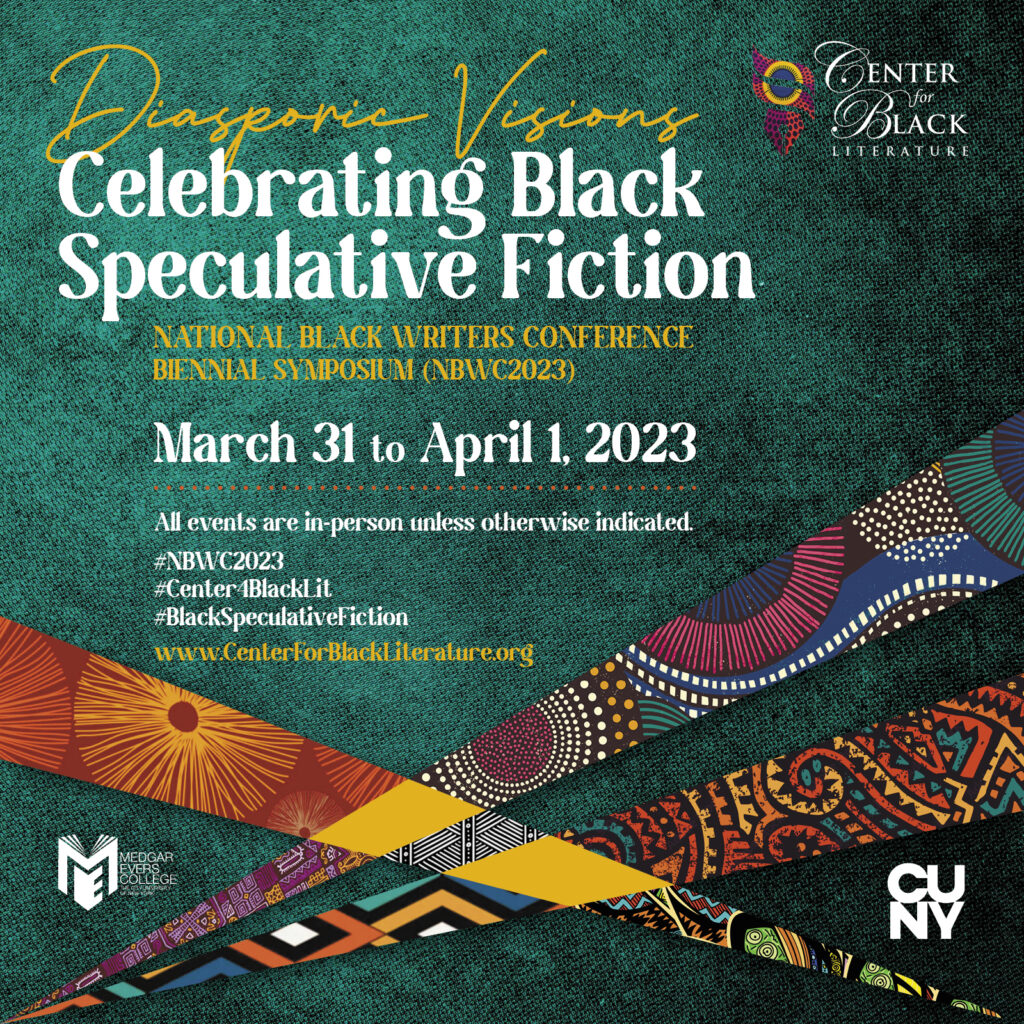 Coming March 31 - April 1, 2023, the biennial symposium will be IN-PERSON! We can't wait to see you in Brooklyn for Diasporic Visions: Celebrating Black Speculative Fiction.

Black speculative fiction encompasses the genres of magical realism, futurism, horror, fantasy, paranormal, and mythology. We invite writers, scholars, and fans of the genre to come raise questions about racism, identity, gender through this unique expression. Enjoy pre-symposium activities throughout the month of March, visit our online and on-site African American owned booksellers, visit our vendors' marketplace, and much, much more! Click HERE and register today!
How Can Genealogical Research Unlock The Stories of Our Formerly Enslaved Ancestors?
Inspired by Octavia Butler's seminal work, Kindred, Restoration Plaza and the Center for Black Literature at Medgar Evers College have partnered to invite nationally recognized genealogist and host Nicka Sewell Smith to present her popular workshop: The Trifecta: The Secret to Researching the Formerly Enslaved. Join us via Zoom on Tuesday, March 28, 2023, to learn how three crucial record sets (Civil War Pensions, the Freedmens Bureau, and Probates/Successions) can be the doors that open a past that has been closed to us. Come ready to learn and ask questions! Register HERE!
This is a pre-symposium event for the National Black Writers Conference Biennial Symposium (NBWC2023) at Medgar Evers College, CUNY. 
MEC Students' Have a Story to Tell.​ Read On...
Some of the students in the College's English department are interns at CBL. Part of their work is to contribute to Musings, the Center's student blog. For a few years now, they have been sharing their opinions, insights, and observations on a wide range of topics. We encourage our visitors to read the latest. Comments are welcome!
Join Us March 29 for a Special NBWC2023 Pre-Symposium Event!
📚 We're reading Black Sci-Fi Short Stories: Anthology of New and Classic Tales by Tia Cross (Co-editor), Sandra M. Grayson (Introduction), and Temi Oh (Foreword). Email us for details on how to join this virtual gathering on 3/29/23. It's okay if you haven't read the book.
Watch "Writers On Writing" on YouTube!
Interviews Conducted by Dr. Brenda M. Greene
SHERÉE RENEE THOMAS



Dr. Brenda Greene and the award-winning speculative fiction writer and editor Sherée Renee Thomas discuss her journey from book sales and publishing to writing short stories, poems and editing; the writers who influenced her; the emerging themes in Black Speculative Fiction; and her writing projects in editing, multimedia, and fiction. Thomas published the ground-breaking speculative fiction anthologies Dark Matter: A Century of Speculative Fiction from the African Diaspora (Aspect-Warner, 2000) and Dark Matter: Reading the Bones (Aspect, 2005). As a lover of science fiction at an early age, Thomas had a turning point when she discovered Octavia E. Butler's novel Kindred and observed the centrality of Black women as principal characters. Her most recent writing, Nine Bar Blues: Stories from an Ancient Future (Third Man Books, May 2020) ,is her first all prose collection. She is also the author of the Marvel novel adaptation of the legendary comics, Black Panther: Panther's Rage (Titan Books, October 2022).
DR. JEWELL PARKER RHODES 



Dr. Brenda Greene and Dr. Jewell Parker Rhodes, the author of seven novels and six books for youth, discuss her journey into writing the speculative fiction novel Voodoo Dreams and subsequent books that reflect her search for her ancestors and her chronicling of traditions and spirituality in African culture. Rhodes classifies her work as historical fiction that presents readers with "a different kind of novel." Greene and Rhodes also discuss the ways in which many novels and stories in the Black literary canon can be classified as speculative fiction. Rhodes' other works include Magic City, Douglass' Women, Season, Moon, and Hurricane, as well as the memoir Porch Stories: A Grandmother's Guide to Happiness, and two writing guides: Free Within Ourselves: Fiction Lessons for Black Authors and The African American Guide to Writing and Publishing Non-Fiction. She has won the American Book Award, the Black Caucus of the American Library Award for Literary Excellence, and the Jane Addams Peace Association Book Award.
About the Center for Black Literature at Medgar Evers College, CUNY
For 20 years, the programs of the Center for Black Literature (CBL) have had a dynamic impact in the literary field. The highly anticipated author readings and book signings, journals, symposia, conferences, panel discussions, and writing workshops—and the Center's intellectual and accessible approach to programming—form an integrative approach to programming that sets CBL apart from others. CBL's events are known for the way they ensure that Black literary scholarship and conversations are valued and sustained.
To carry out our literary programs and special events, we depend on financial support from the public. Donations are welcome year-round. Click HERE to make a donation today. Thank you in advance!
...
The Center for Black Literature at Medgar Evers College is supported in part by an American Rescue Plan Act grant from the National Endowment for the Arts to support general operating expenses in response to the COVID-19 pandemic.

Sign-up to receive news about our own programs and much more!
Copyright © 2022 All rights reserved. | Center for Black Literature at Medgar Evers College, CUNY.