Join Us In Brooklyn This Spring for NBWC2023!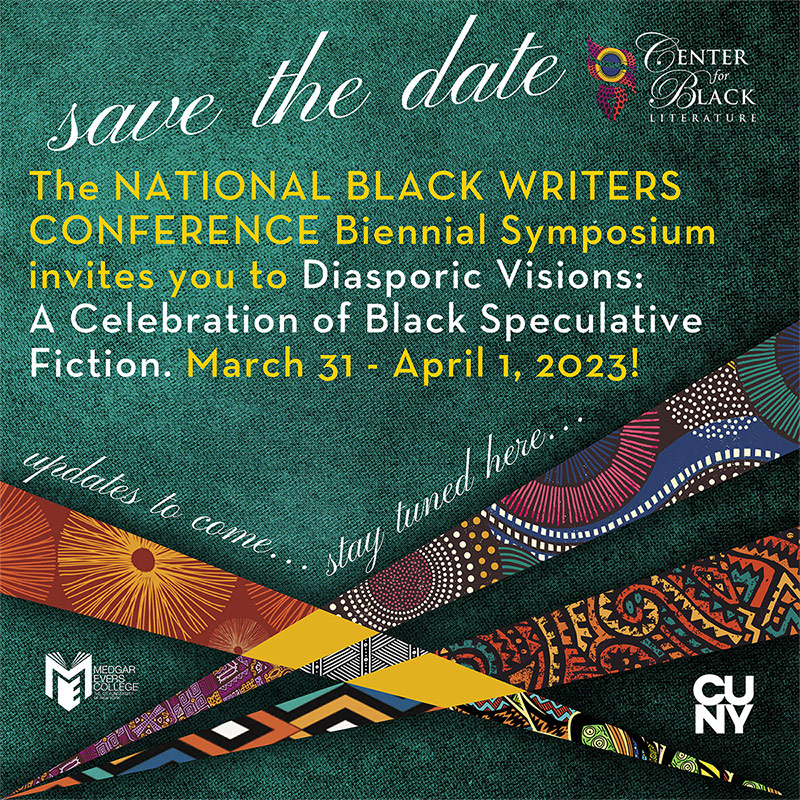 2023 National Black Writers Conference Biennial Symposium (NBWC2023)
Diasporic Visions: A Celebration of Black Speculative Fiction
Friday, March 31, 2023 – Saturday, April 1, 2023
Presented In-Person and Virtually | Program Subject to Change
Medgar Evers College, CUNY | Edison O. Jackson Auditorium
1638 Bedford Avenue | Brooklyn, NY 11225
Black speculative fiction encompasses and blurs the genres of magical realism, futurism, horror, fantasy, paranormal, and mythology. These imaginative stories enable writers to create alternative and futuristic worlds, narratives rooted in traditional beliefs and spirituality, and compelling stories that center the Black experience. The stories also raise questions about colonialism, racism, identity, and gender.
At the 2023 National Black Writers Conference Biennial Symposium (NBWC2023), students, writers, scholars, and readers will discuss the genre's history and current state. This public gathering will feature interactive panel discussions, roundtable discussions, and opportunities for attendees to engage with fellow literature lovers from across the country.
The annual award presentation celebrates internationally acclaimed writers. Award-winning poet and fiction writer Sheree Renée Thomas and best-selling novelist Jewell Parker Rhodes are this year's NBWC honorees and both will receive the Octavia E. Butler Award. Other confirmed participating writers include poet, fiction, and nonfiction writer Jewelle Gomez; fiction writer L. Penelope; and fiction writers and memoirists Tananarive Due and Wayétu Moore.
The core program for NBWC2023 will be in-person and will take place at Medgar Evers College in Brooklyn. Symposium highlights include a free Youth Day program, pre-symposium thematic events, interactive discussions, online and on-location Black booksellers, and more. Registration is required for all events (in-person and virtual).
The registration donation is $25 for the public.
The awards program is free to attend.
Details about how to register will be
announced here first on the CBL website.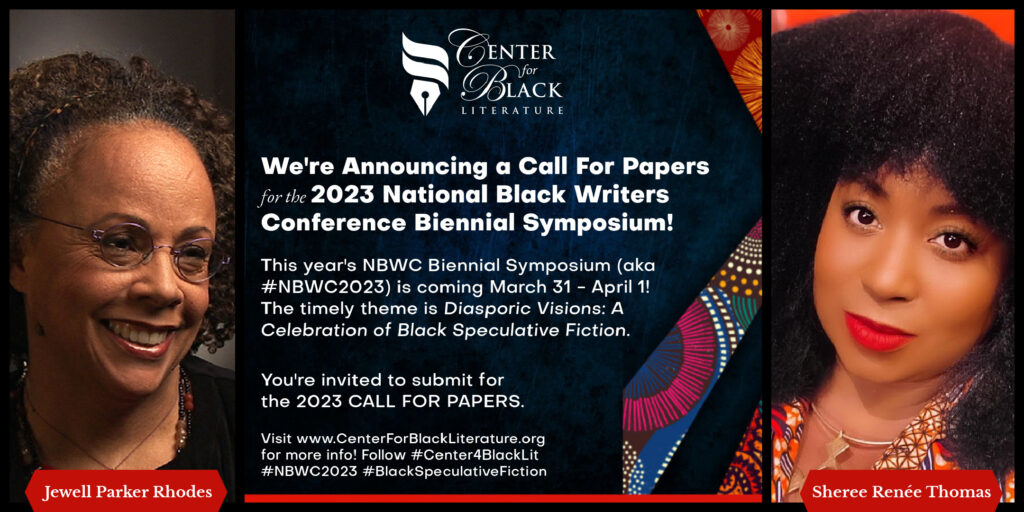 To carry out our literary programs and special events, we depend on financial support from the public. Donations are welcome year-round. Click HERE to make a donation today. Thank you in advance!
...
The Center for Black Literature at Medgar Evers College is supported in part by an American Rescue Plan Act grant from the National Endowment for the Arts to support general operating expenses in response to the COVID-19 pandemic.

Sign-up to receive news about our own programs and much more!
Copyright © 2022 All rights reserved. | Center for Black Literature at Medgar Evers College, CUNY.