Join Us for the National Black Writers Conference Biennial Symposium (NBWC2023)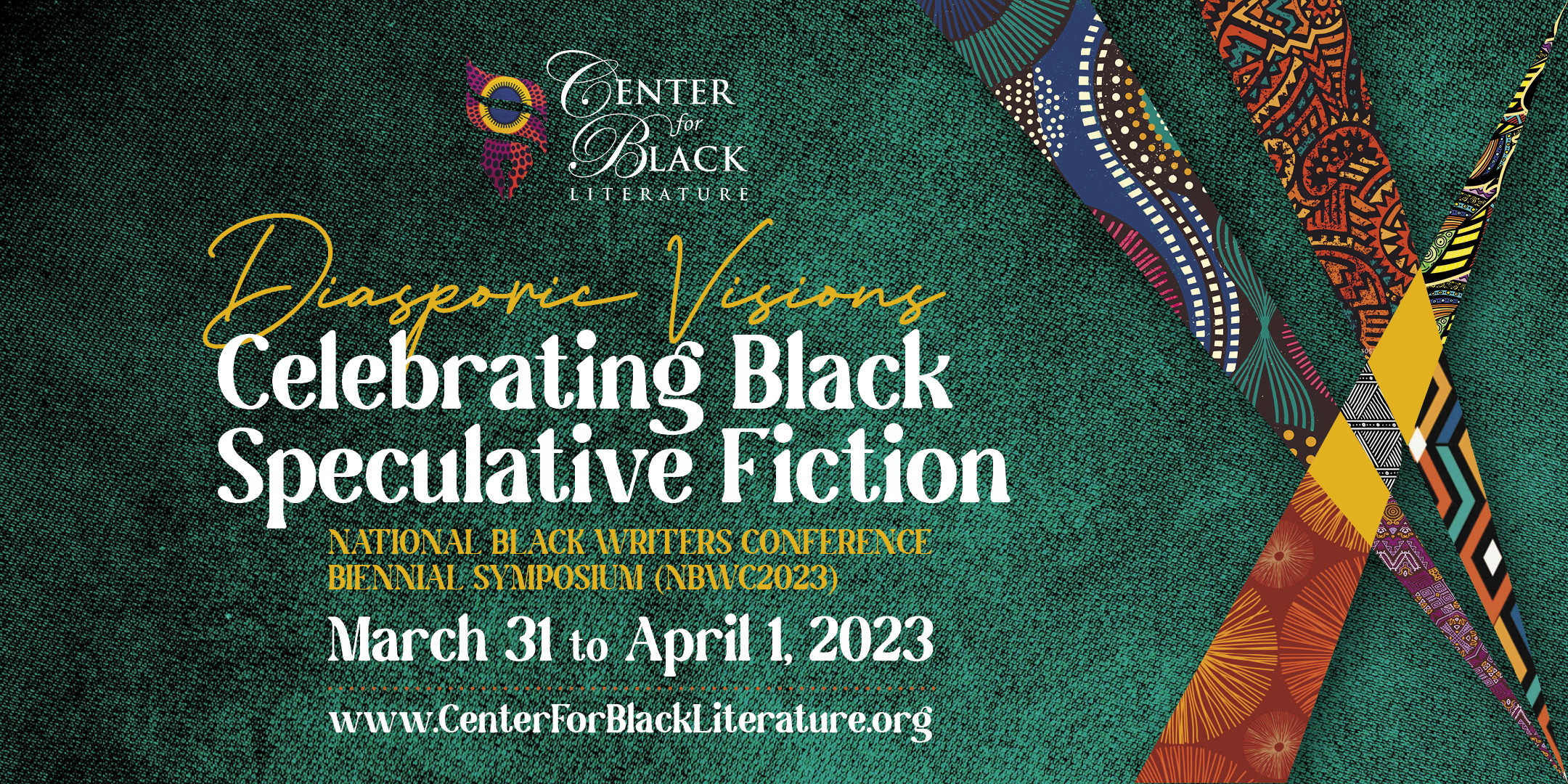 Diasporic Visions: Celebrating Black Speculative Fiction
Friday, March 31, 2023 – Saturday, April 1, 2023
Medgar Evers College, CUNY | Brooklyn, New York

Black speculative fiction encompasses and blurs the genres of magical realism, futurism, horror, fantasy, paranormal, and mythology. These imaginative stories enable writers to create alternative and futuristic worlds, narratives rooted in traditional beliefs and spirituality, and stories that center the Black experience. The stories also raise questions about colonialism, racism, identity, and gender.
At the 2023 National Black Writers Conference Biennial Symposium Diasporic Visions: Celebrating Black Speculative Fiction, writers and scholars will discuss the genre's history and themes, as well as emerging scholarship on the genre. The public gathering will feature interactive discussions, conversations, and opportunities for attendees to engage with fellow writers, readers, and fans of the genre.
Annually, the annual award presentation at the National Black Writers Conference honors distinguished internationally acclaimed writers. This year, award-winning authors Sheree Renée Thomas and Jewell Parker Rhodes will receive the Octavia E. Butler Award. Other confirmed writers are Reynaldo Anderson, Tananarive Due, Jewelle Gomez, Deirdre Hollman, Wayétu Moore, L. Penelope, and Tim Fielder, among others.
The core program will be in-person at Medgar Evers College in Brooklyn. Presentations on the scholarship in the genre will be offered virtually. Symposium highlights include a free Youth Day program, pre-symposium thematic events, interactive discussions, online and on-location Black booksellers, a vendors' marketplace, and much more.
All NBWC2023 programs are subject to change. Registration is required and managed by Eventbrite. Register today!
Thursday, March 16: Kindred: An Exploration of Slavery's Legacy
6:30 pm to 8:00 pm
Confirmed Speakers: Courtney Lee-Mitchell, Mudiwa Pettus, Tracey Squires, and Cathie Wright-Lewis
Moderator: Donna Hill
Edison O. Jackson Auditorium *
Thursday, March 30: Youth Day
Wakanda Forever and Beyond
A Middle School and High School Program
9:00 am to 12:00 pm
Curated by Mo Beasley
Founders' Auditorium *
This three-hour writing and performance intensive will introduce middle school and high school scholars to the roots and evolution of blockbuster superhero movie icons and speculative fiction protagonists such as Before Thor, Wonder Woman, and T'Challa there was Horus. Scholars will explore the breadth of Black Speculative Fiction in graphic novels, comic books, popular culture, and African and Western mythology. They will write poems, skits, and reflections on the themes, heroes, and heroines reflected in this literature and share their writing with the larger group.

Primary School Program
1:00 pm to 3:00 pm
Curated by Cathie Wright-Lewis
Founders' Auditorium *

Scholars will use literary elements to write poems, raps, letters, and skits based on characters from the films Wakanda Forever and Black Panther. They will share these reflections with the larger group.
NOTE:
Youth Day is open only to ROLL program students and other NYC high school students.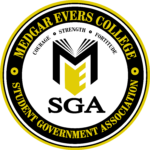 Thursday, March 30: Medgar Evers College Open Mic!
6:00 pm to 8:00 pm
Academic Complex Lobby
Co-Presented by Medgar Evers College's Office of the Dean of Students, Office of Student Life, and the Student Government Association
Scholarly Paper Presentations on Diasporic Visions: Celebrating
Black Speculative Fiction, Sheree Renée Thomas, and Jewell Parker Rhodes
10:00 am to 3:00 pm
This is a Virtual Event.
Panel One: Horror & Hauntings (10:15 am - 11:45 am ET)
CARLYLE VAN THOMPSON | Medgar Evers College, CUNY (NY)
"Richard Wright's "Between the World and Me" and Jewell Parker Rhodes' Ghost Boys: Intersecting Racial Violence and Racial Trauma"
RHONDA JACKSON GARCIA | Lone Star College (TX)
"Not The Mammy You Know: The Subversion of the Mammy Trope in Horror Portrayals of Black Motherhood"
JULIA MALLORY (Founder of Black Mermaids and Senior Poetry Editor for Raising Mothers) and HESS LOVE (MFA Student and Co-Founder of the Chesapeake Conjure Society)
"Magic and Mourning: Special Specters on Screen in the Films Beloved, His House, and Nanny"
Panel Two: Envisioning New Generations (12:00 pm - 1:00 pm)
PHEOLYN ALLEN | Pennsylvania State University (PA)
"Now We Rise: The Affirmation of Black Rage and Rebellion in Tomi Adeyemi's Legacy of Orisha Series"
KARIMA K. JEFFREY-LEGETTE | Hampton University (VA)
"…and 'Still We Rise', or Do We?: The Promise and Problems of Supergirls of African-Descent in Popular Contemporary American Culture"
Panel Three: Speculative Dynamics (1:30 pm - 3:00 pm ET)
CHAMARA MOORE | Queens College, CUNY (NY)
"Thr ough Their Eyes: The Visionary Promise of Black Feminist Speculative Fiction"
DOÑELA C. WRIGHT | San Francisco State University (CA)
In Conversation with the Sacred within Octavia Butler's Parable of the Sower
WALTER GORDON | Stanford University (CA)
"Logistics/Quest: Narratives of Speculative Circulation in Nova and Invisible Things"
---
A Special Presentation by the Dr. Edith Rock Writing Workshop for Elders
3:30 pm to 5:00 pm
Edison O. Jackson Auditorium *
Roundtable Discussion
Diasporic Visions: The Evolution of Black Speculative Fiction from Print to Film
11:00 am to 12:30 pm
Confirmed Speakers: Reynaldo Anderson, Jewelle Gomez, and Rasheedah Phillips
Moderator: L. Penelope
Edison O. Jackson Auditorium *
-------
Roundtable Discussion
Black Speculative Fiction's Impact on Popular Culture
1:00 pm to 2:30 pm
Confirmed Speaker: Tim Fielder, Jesse J. Holland, Christine Taylor-Butler, and Ytasha Womack
Moderator: Jarvis Sheffield
Sponsored by the Black Science Fiction Society (www.blacksciencefictionsociety.com)
Edison O. Jackson Auditorium *
-------
Roundtable Discussion
The Presence of Africa in Black Speculative Fiction
3:00 to 4:30 pm
Confirmed Speakers: Tananarive Due, Clarence Haynes, and Anita Kopacz
Moderator: Mo Beasley (new)
Edison O. Jackson Auditorium *
-------
NBWC2023 Honorees' Spotlight
A Conversation with Sheree Renée Thomas and Jewell Parker Rhodes
5:00 pm to 6:00 pm
Moderator: Reynaldo Anderson
Edison O. Jackson Auditorium *
-------
Silent Auction
6:15 pm to 6:30 pm
A variety of personal and professional items will be on display and available for purchase by NBWC2023 attendees. This is a creative way to ensure that the legacy of the Center for Black Literature is sustained.
-------
Octavia E. Butler Award Presentation
6:30 pm to 7:15 pm
Host: Novella Ford
Edison O. Jackson Auditorium *
The Octavia E. Butler Award is presented to the writer whose body of work exhibits excellence in the field of science fiction and fantasy. The award recognizes the writer whose achievements and dedication are to creating a body of speculative literature that stretches the imagination and promotes the genres of fantasy, science fiction, and speculative fiction. Steven Barnes and Tananarive Due are previous recipients of this award.
---
* PROGRAM SUBJECT TO CHANGE
OTHER IMPORTANT NOTES
The symposium program is subject to change.
All events are in-person unless otherwise noted.
If you require any accessibility, please contact us at

nbwc@centerforblackliterature.org

. Sign language interpreters will be available at the symposium.
Please note the new dedicated email address for NBWC. Contact us at nbwc@centerforblackliterature.org.
* NBWC2023 VENUE ADDRESSES IN BROOKLYN, NEW YORK

Academic Complex Lobby: 1638 Bedford Avenue
Dining Hall: 1638 Bedford Avenue
Edison O. Jackson Auditorium: 1638 Bedford Avenue
Founders Auditorium: 1650 Bedford Avenue
Center for Black Literature (CBL)
at Medgar Evers College, CUNY
1534 Bedford Avenue | 2nd Floor
Brooklyn, New York 11216
(Click HERE for the Postal Mailing Address)
Main Phone: (718) 804-8884
Main Office: info@centerforblackliterature.org
To carry out our literary programs and special events, we depend on financial support from the public. Donations are welcome year-round. Please click HERE to donate. Thank you!
...
The Center for Black Literature at Medgar Evers College is supported in part by an American Rescue Plan Act grant from the National Endowment for the Arts to support general operating expenses in response to the COVID-19 pandemic.

Sign-up to receive news about our programs!
Copyright © 2023, Center for Black Literature at Medgar Evers College.